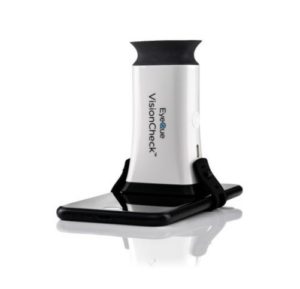 In about two weeks, I will be headed to Las Vegas to CES 2020, a very big tech trade show. It is kind of strange that I am reviewing a device that was a 2019 CES Innovation Honoree. This is the EyeQue VisionCheck, and it is a way that you can use a smartphone to check your vision and order new glasses online.
You can see in the image how the device will affix itself to your smartphone using some elastic bands that it is included. It sort of hooks itself around it, and then you need to order the application. The EyeQue Visioncheck is then able to sync with your smartphone, and then you can take a serious of vision tests that are dissimilar to the one your optometrist will give you.
Then you can use the results from your test to share with your eye doctor, and you can hopefully get a pair of glasses that can help you. It's a pretty revolutionary system of something that everyone really needs, even if there might not be a need for an EyeQue in everyone's household.
If this is something that you want, head on over to the EyeQue website and lay down $69 for it.