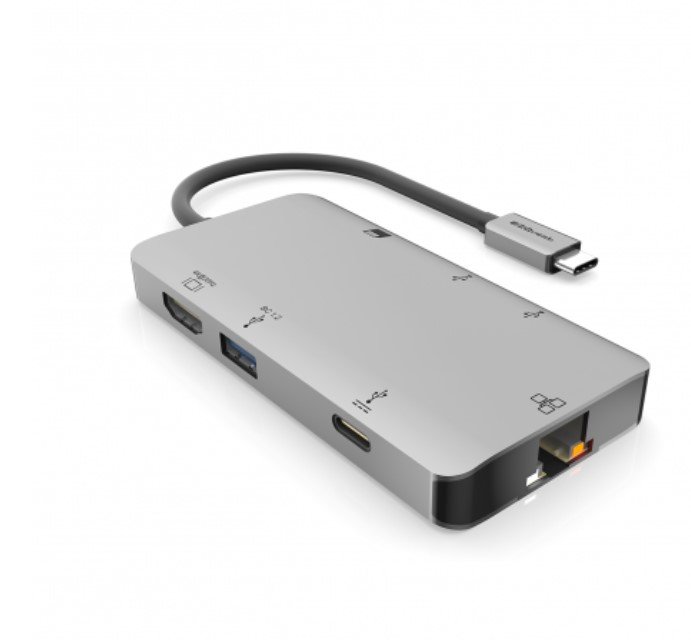 I have to admit that I have never heard of this company of EZQuest, but I will say that my quest to make my life easier has been fulfilled. The EZQuest USB-C Multimedia Hub Adapter with 8 ports is very similar to a product we reviewed recently from Anker called the Power Expand Direct 7-in-2 USB Adapter, but instead of using two USB-C, this adapter needs only one spot.
Right now, I am trying this out on my Windows laptop, so I guess it is good for both Apple and non-Apple products. Fortunately, USB-C seems to be all the rage, so what can you have? How about three USB 3.0 ports. a spare USB-C, high speed gigabit Ethernet network connection (with LED indicator), an HDMI port, not to mention an SD card reader for both small and large sizes.
Yes, that is a lot, and it works as fast as you can plug it, and anything else you want, into your computer. It is really a handy gadget to have around, and it also looks good as it is made of precision engineered anodized aluminum. So it looks very hot, and it kind of feels hot too. Yeah, there is a bit of a heat factor with this, just to let you know.
Update: I have been asked to share this bit of information:
USB PD 3.0 Fast Role Swap helps to prevent data loss and keeps the secondary monitor on if the USB-C power cable is disconnected from the hub while your notebook display is open
Latest USB-C Power Delivery version 3.0 with pass-thru charging up to 100 watts
Three 5Gbs USB 3.0 ports with one BC 1.2 capable
Still, it is a worthwhile investment, and it can be purchased on the EZQuest site for a cost of $79.99.