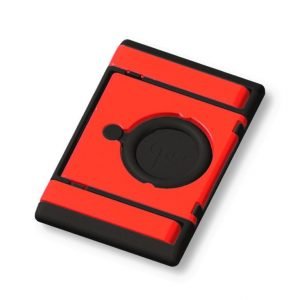 One of our first video reviews that I did on my channel was about smartphone grips, and I wish that I had reviewed the Flipside from TripTech. If you can't tell from the image here, that is what this Flipside from TripTech is supposed to be.
Fortunately, I do have a video showing this, even though I don't have it on the phone because, hey, I've already stuck all the grips that I reviewed on that video review of all of those smartphone grips. Just to let you know, you are not seeing the sticky part that you affix to your phone. Maybe you should just watch the video, but if you like reading, let me tell you about it.
See the ring? You can pop it out of the Flipside and put it around your finger, and you won't be dropping your smartphone any time soon. Oh, and then there is flap that comes down so you can prop up your phone for watching videos and stuff.
Then there are these clips that come out, and you can put your phone on your air vent on your car. It is very, very crazy but so good!
If you want this, you can get it on the TripTech site for $19.99 in various colors.