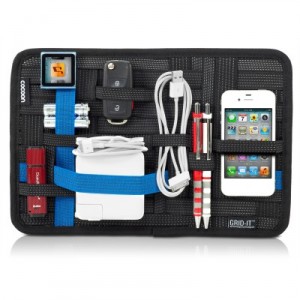 I don't know if you have ever even heard of GRID-IT products before, but it solves a problem that I think everyone has. You see, I carry around a pack for my laptop, and all my accessories just sort of get shoved in a pocket. Stuff like my mouse, laptop lock, and other cords get tangled. Some stuff gets lost, even though it is safely in a pocket. Too deep in the pocket is the problem.
GRID-IT is a very simple solution for organization with their Cocoon series. It is simply a frame of elastic straps which allow the user the ability to put their stuff within the weave, so to speak. You can see how it works in the Medium sized version (GCA 10) in the image. Notice how things are safely tucked away, and they don't fall out unless you want them to.
This really is quite a cool system, and I do recommend it for anyone who wants some organization within their large bag, whatever it may be. You can find this particular model, the GCA 10, on the GRID-IT site for about $24.99. I highly recommend heading to the site and finding other sizes and models.