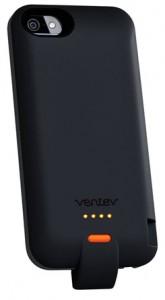 I have talked about Ventev products before, and I had a chance to review many of them again. Let me start by saying that I highly recommend them, simply because everyone needs accessories, and you might as well use their signature orange and gray style.
I'll go ahead and start with the Powercase 2000. In case you are wondering why the 2000 is tacked on the end of this product, it isn't to make it sound cool like Blues Brothers 2000 (which was not cool and wasn't even released in the year 2000). No, this is a case for the iPhone with a built-in battery charger of 2000 mAh that is good for an 8 additional hours of talk, Internet, video, or 32 hours of audio.
I have talked about products like these before, such as the Ontrion Lifecharge for the iPhone 5. In both cases, these charge via micro USB and affix to the iPhone with the Lightning connector. By the way, this Ventev product comes in Black/Gray, Gray, Gray/Dark Purple, and Gray/Pink Blossom. You can get it on the Ventev site for a price of $69.99.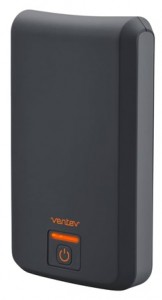 As for the Powercell 6000+, it seems like yesterday that I was reviewing a product such as this. Oh wait, it was yesterday, and it was the Extreme 10,000 Duo from iWalk. There is one major difference between the Powercell 6000+ and the Extreme 10,000 Duo: the Duo wasn't able to plug into the wall.
Yeah, this is your typical mobile battery product, which means you can charge it, and I like how it has foldable prongs for wall-charging. The battery can then be taken with you and has 1A and 2.1 A output USB ports, for charging two devices as once, like the iWalk Duo. In this case, it is good for 25 hours of talk, 18 hours of Internet, 20 hours of video, or 100 hours of audio playback.
If this sounds like it is up your alley, head over to the Ventev site and pay $74.99 for it. This one is only available in gray, but I'm not certain that makes any difference to anyone, really.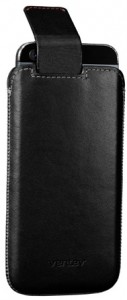 These last two products are not really high tech, with no electronics needed or required. I had a chance to review two for the iPhone 5, but they are available for other smartphone models as well.
The Ventev Glide is made to protect your iPhone in a very simple way. It is pouch that has a magnetic strap to keep it in until needed. Did I mention that it has genuine leather? Because it has it, as well as some micro fiber lining. You can get it for about $34.99 on the Ventev site here. It only comes in black, though.
There are a few more products that I reviewed and are not pictured, but they are worth mentioning. The first is the Toughglass, which is a shock-absorbent screen protector for the iPhone 5/5S/5C. It is 9H hardness rated, with tapered edges for a "smooth, seamless feel". You can get that for the iPhone for about $34.99 on the Ventev site. As for the Chargesync cables, I have talked of these before, and you can read about them in my other Ventev article here.