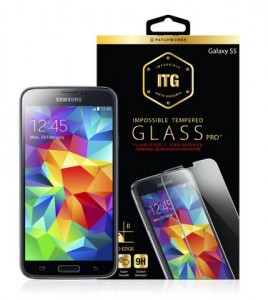 While I was at CES 2015, I had a chance to try out Patchworks ITG PRO Plus Tempered Glass screen shields. I should have tried them out within the past month, but in all honesty, I get afraid of these.
You see, I just got a new case for the Samsung Galaxy S5, and I was thinking that the ITG PRO Plus Tempered Glass screen shield could hinder that case. I am glad that it seems to work just fine with the Ballistic case. I might talk about that Ballistic case at some other time.
As it turns out, it was pretty simple to install. It came with some Zeiss lens cleaning lens stuff for your touchscreen. Then you just peel off the back cover of the screen saver and put it on. From there, the touchscreen on my phone just sucks it up, and it stayed within the lines, which was my worst fear.
So, we are looking at some scratch-resistant 9H hardness screen protection, with an oleophobic coating which means that fingerprint oil, and dirt wipes off easily.
Okay, this here is a link to the Patchworks site, and you'll see a lot of great ITG products there. You should be able to get a good protector for varying price, which means you should check it out.