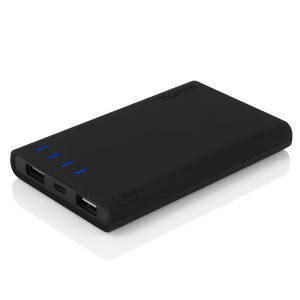 I will have to be blatantly honest and say that I have seen a lot of products like this before. This is not to be confused with the offGRID battery cases that I have reviewed before.
This is a mobile battery that everyone needs because most people live in a world where their battery on their tablet and/or smartphone simply isn't good enough to last a work-day. Usually, the only question remains is how many mAh it has, and this is 6000. It also has 2 USB ports, which means it can do a smartphone or tablet, or two of each.
It has about 3.1 total amps, and I am told that it is certified by the California Energy Commission as a Battery Charging Pack. I guess that means a lot, but I am not entirely certain what makes it better than other mobile batteries. It has the customary four lights.
If you want to get in on this offGRID model, you can get it on the Incipio site for about $69.99.