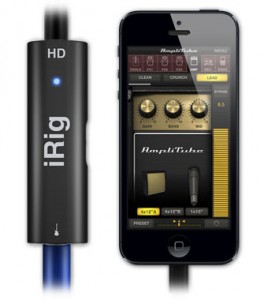 Some of you might remember the iRig PRO that I reviewed two weeks ago, and I had an opportunity to review what is probably the predecessor, the iRig HD. Well, it is the least expensive model, but we'll get to price later.
I hate to say something that I have said before, but I will have to say that I am not the best person to review this product. This is not because I'm not a guitarist, but if I had one, I would use this "high-quality" guitar interface.
The iRig HD is connectable via Lightning, 30-pin, and USB devices, and it fits into one's pocket quite well. It is a 24-bit A/D converter that delivers you from crosstalk and noise. And it is powered by an iDevice like iPad, iPhone, or iMac or PC.
It comes with a free app known as Amplitude, with an option of a full-priced version. You should be able to plug-and-play, and there are dials that you can "spin" on a touchscreen for adjustment of a signal level for your instrument and the apps. Oh, by the way, the iRig HD works with synthesizers, keyboards, or mixers. In addition to the app, there is a multicolor LED on the device itself to give you a signal of what is going on.
There really is a lot to like about the iRig HD, and if this is something that you want, you can get it on the IK Multimedia site for about $99.99.