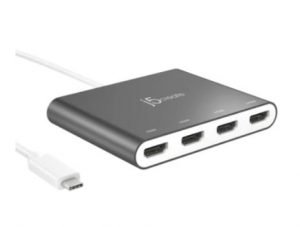 It seems to have been a while since our last review of a j5Create product, but we'll have a few to review now. These will be separate posts- instead of the usual combo post. The item I'm about to review for you now is an alternative to a costly video card. This is the J5Create USB-C to 4 Port HDMI Multi-Monitor Adapter.
If you need to hook up your laptop/ Mac to 4 monitors at one time, this nifty tool would be a great resource for you. It's cheaper than a video card and provides all the benefits. It connects through USB-C, so you want to have a compatible device to support that. As long as you have the HDMI cables to connect your screens, you are good to go for 1080p video playback and 48 kHz imbedded audio. No additional plug is required, as it is all powered through USB.
With 4 screens, you have the possibility of 32 segmented windows(8 to a screen). A free downloadable app will help you easily arrange things through drag and drop, or with the use of hotkeys.  Four different modes are available for display- mirror, extended, primary and display rotation.
Here's the video they posted from CES 2020, where TechnoMark connected with them:
The 3.996 x 3.13 x .63 inch device has an included USB-C cable with a length of 19.69 inches.  For $109, this item can be found at places like Office Max, Best Buy, Staples, and WalMart or the J5 Create website.
We were given this product to review, but no other compensation has been given for our fair and unbiased analysis of this product.