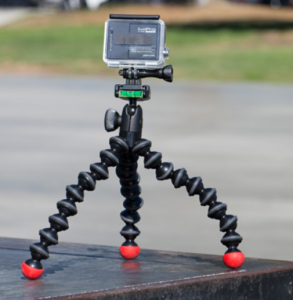 Come on, you knew this was coming. I just had a Joby Action Series Day, Part 1 with the Action Clamp + Gorilla Arm, so the inevitable Part 2 was just around the corner, and on the same day.
This is the GorillaPod Action Tripod, and like the Action Clamp + Gorilla Arm, it is made for the GoPro Camera. Again, I see little point in explaining what a GoPro camera is. As Woody said in Toy Story, "if you don't have one, get one".
While you are at it, you might want to get the GorillaPod Action Tripod. Unlike the aforementioned Action Clamp, you are not required to find a bannister or other thing that you can conveniently clamp on to. This can stand like it's namesake, the Tripod, and this gives a greater degree of flexibility, more than the award-winning Joby Gorillapod series already has.
The GorillaPod Action Tripod also has 90 degrees of tilting and 350 degrees of tilting. That is pretty versatile, and it has a liquid level on the top so you can insure that your "selfie" is straight. (In case you are wondering why I am using the word "selfie" a lot these days, it is because it is the 2013 word of the year. Seriously.)
And so this concludes our Joby Action Series Day, but sadly, I still don't have a price. You can find out more information about it here at the Joby website.