I always like reviewing Kanex products, because there is always something interesting going on with them as far as premium Apple accessories are concerned. It has been so long since we have reviewed a Kanex product, that I was glad to be reminded of them at CES 2020.
Kanex Premium Mouse Pad with Wireless Charging
Okay, there is a lot of terrific wireless charging products out there now, and the Kanex Premium Mouse Pad is one of the thinnest. I don't know if it is the thinnest, just like I don't know if it is the largest, but it is pretty big.
In fact, it is what you need for charging an iPhone or Airpods, but not both at once. It's something that you want to do if you want to just charge your favorite Qi wireless charging enabled smartphone or wireless earbuds.
The Kanex Premium Mouse Pad is available on the Kanex site for $49.95 in Midnight Blue, Rose Beige, Latte Cream, and Smoke Grey.
Kanex Slim Numeric Keypad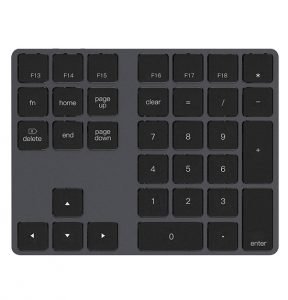 As you can see from the look of the Slim Numeric Keypad, this is clearly made for Macs. You want that numeric keypad for your Mac? This is definitely made for that.
The Kanex Slim Numeric Keypad comes with wireless Bluetooth 6.0 connection, and a rechargeable battery with 110 mAh capacity. Just power it up with the micro-USB cable, and if you think you are getting low in battery, press the power button.
The Kanex Slim Numeric Keypad comes in either Grey or Silver for $49.95 on the Kanex site.