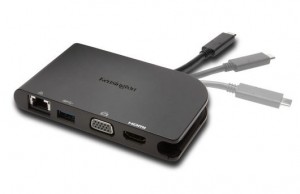 I got to love what Kensington is doing, and here is another product that has come out just in time for back-to-school. I have to admit, I don't really have a need for this, but I'm guessing that a lot of notebooks have a spare Type-C port.
The Kensington SD1500 USB Type-C Mobile Dock is made to connect your notebook's USB Type-C port in order to provide with VGA, 4K HDMI, USB 3.0, as well as Gigabit Ethernet Connections. The USB Type-C cable is able to wrap around the Mobile Dock, and it is Thunderbolt 3 compatible.
If you don't have that, there is another use. You can use it to create a desktop setup that includes a monitor with a reliable wired network connection, not to mention a wireless keyboard and mouse.
If this is something that you want, then feel free to head on over to the Kensington site and pay $89.99 for it.