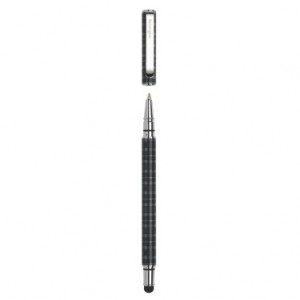 It is pretty clear that we are in an era where we need something to draw on our screen just as much as we might need a pen, and this is why I am glad there are products like the Virtuoso from Kensington.
Kensington is a company that I like a lot, and they have a lot of very decent products. The Virtuoso is both a Stylus for the tablet and a traditional ink pen. The stylus is to help keep your screen clean from the smudges that your hand will infect it with, and the pen is because…you always need a pen. I can think of four times today that I need a pen alone.
The Virtuoso looks like one of those pens that you have that is like a family heirloom. It comes in several colors, and I had a chance to try out the plaid, and it is a gourmet pen.
I couldn't find a price for it on the official Kensington site, but Amazon gives it about $27.50.