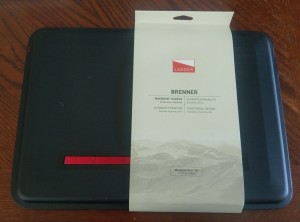 Well, we have reviewed Lander products before, as they have that black iPhone case that looks like the bottom of a plastic raft. Now, I had a chance to review the Lander Brenner MacBook Sleeve for MacBook Pro 15-inch.
This particular case for the MacBook has one of those Magnetic clasps, and it can give your MacBook some "weather resistant" powers. Yeah, I'm not certain if you want to use this sleeve and throw your MacBook in the lake, but you get it.
Apparently, this thing has "heat molded edges", and it is "thermaformed" to fit the MacBook. This Illumaweave has a reflective jacket material for quick location in the dark.
Hey man, it is a tough world out there, and if you need this particular product for your MacBook, and you have one that is 15-inches, head over to the Lander site and pay $49.99 for it.