Landing Zone is a Silicon Valley company that is dedicated to make docking stations designed for Apple users. They were generous enough to send us three products, which we'll cover in three separate articles today. In this review, we're going to look at another Thunderbolt 3 product- a Docking Station For 15.4″ MacBook Pro with Touch Bar.

This isn't the first time we've reviewed a Thunderbolt 3 product. The last review of one was by Promise Technology- just last week. Landing Zone's docking station has quite a different look and set up, but many of the same features. This Thunderbolt 3 actually fits the MacBook Pro on it which gives you a bit of an angle on your keyboard, but it has some good ergonomics.
There are several different ports to use:
3 USB 3.1 Type-C Ports
1 USB Type C Passthrough Port
3 USB 3.1 Type A Ports (one with high speed charging)
an HDMI port
a Mini DisplayPort or HDMI Port (depending on how you want to use it)
Gigabit Ethernet
SD card slot
Micro SD card slot
a 2 way audio jack
a slot for a Kensington Security key to lock up your MacBook Pro
and, of course a port for the power cord (a 96 W adapter is included)
Your MacBook Pro could be working for you like this one: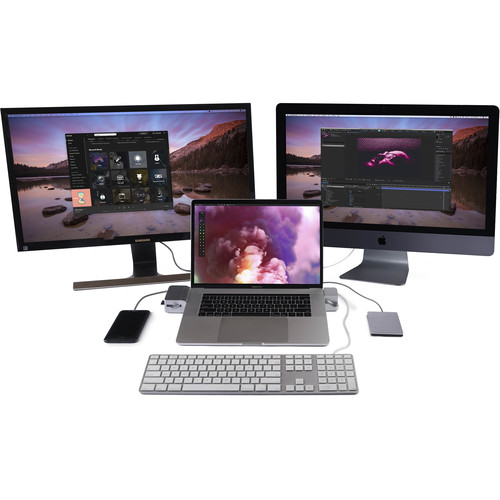 Note, while the docking station looks very metallic, it is actually made of a plastic material, which makes it lightweight, but it still feels sturdy and of reputable quality. It is easy to set up and use right away.
The cost of this device is $299, but if you are a student, you could qualify for a discount by purchasing it on the Landing Zone website.
Thanks again to Landing Zone for sending us a free model in exchange for our fair and unbiased review.