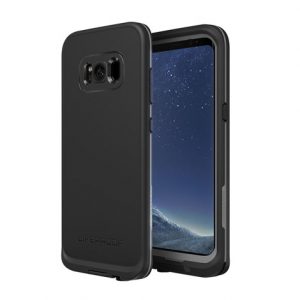 We've reviewed the LifeProof Frē for iPhones in the past. Like any good company, LifeProof knows that there is more than just iPhone. Today we bring you our review of the LifeProof Frē for the Samsung Galaxy S8.
As with the other LifeProof cases, this one for the Galaxy S8 is really prepared to take on your adventurous life. It is waterproof for 2 meters up to an hour. It's drop- proof for 2 meters as well. Also snow and dirt-proof.
This case boasts of a new forward facing mic port so you can pick up sounds more clearly, and the charge port door has been re-engineered for easier opening and closing.
You will need to run a test on your case when you get it to test it for true waterproof reliability.
We were sent the black case to review, but you should also know that the case comes in grey with a green accent, purple with a teal accent (although, based on the website, it looks more pink than purple…), and teal with an orange accent.
This lightweight but sturdy case is available on LifeProof's website  for $89.99.