LifeProof has sent us phone cases to review in the past- the last one being the FRĒ for Samsung Galaxy S8. This time, we will be giving you our analysis of LifeProof's SLAM case for the S9 (also available for the S9+). This case is designed primarily to protect your phone from drops.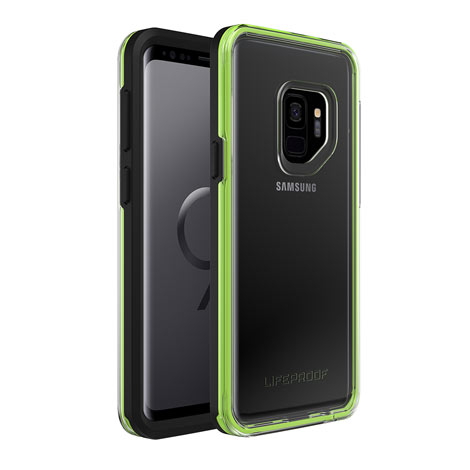 The case boasts the MIL STD rating 810G-516.6, and survives drops from 2 meters. It is not waterproof, like the FRĒ, but it is cheaper in price, and the S9 phones already have the IP68 waterproof rating, so you have coverage there.
Putting the case on is not too tricky. There is a plastic key included to snap apart the shell so you can put your phone in, and once you place your phone in the front part, the back will snap on with a bit of pressure on your part.
SLAM Design
The clear cover on the back allows the S9 owner to see their phone. There are added colors around the side bumpers, though. You can choose from Nightflash (green/black), Aloha Sunset (pink/blue), and Lava Chaser (gray/orange).  While the side wraps around the front of the phone a bit, there is not a lot of protection that seems to be offered for the phone face, so a screen protector is recommended.
The buttons on the side are covered, and the buttons on the case may be a bit stiff at first. The port cutouts provide easy access unless you have a third party headphone jack that has a wider diameter than the one that comes with the S9. Otherwise, you can access your fingerprint scanner and all perfectly fine. The thinness of the case is important for those who don't want bulk, and ease of wireless charging.
Purchasing the SLAM
This case is available for purchase on the LifeProof site for $49.99. They have excellent customer service and free shipping in the US.
We also like the companies Giving Back philosophy,  and how they work with kids to prepare them for the future.
This review was done without bias and fairly, and LifeProof did send us this case to review free of charge.