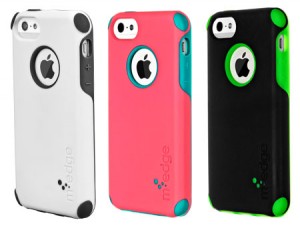 I have reported on M-EDGE products before, like the Modular Method Portfolio or others.
Right now, M-EDGE puts out so many products now, I have a hard time reviewing them all. The company has done a great job supplying me with them, and I recently saw a lot of their products at CTIA. I might as well be blunt and say that I am writing this article because I like them so much and would love to review more of them.
for example, M-EDGE has a series of cases for the iPhone 5 called the "Wingman". It is a snap on case with a silicone insert, and it comes in all kinds of colors. You can find it for $34.99 here, but this isn't really what I want to talk about.
What I want to address is how we have an accessory culture on our mobile phones. I'm not certain if men care about accessorizing, but some ladies do care about what matches with their purse and their shoes. The mobile phone revolution sort of caught the fashion world by surprise, and we are only now starting to see products to turn a mobile phone into a lovely purse.
May I suggest getting into the mobile phone accessory business? If these were at a lower price, then maybe. It is pretty much the way of the future, I tell you.