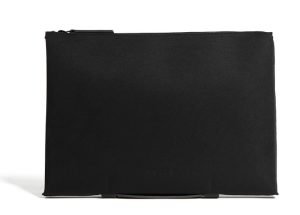 Maybe you've never heard of MUJJO before, and honestly, neither did I. Yeah, seriously. However, I've had the chance to review their stuff, and it is a company that makes sustainable Luxury Leather Tech Accessories. I'll start by talking about the Portfolio.
So, yes, I realize that I review a lot of tech stuff on this website, but I decided to review an accessory, one that can hold a 16-inch laptop. Oh, and then there is room for just about everything else.
Okay, not everything else, but quite a bit of stuff, really. However, if you have a stack of papers, you can hold them here. There's also some cool zipper pockets inside of it, as well as some internal pockets. Some of these pockets can hold something as large as a cell phone.
So yes, you can fit a lot of stuff inside, and look very good and professional looking. You can also keep the stuff on the inside well-protected Ecoguard, with some waterproof fabric and lining made of recycled materials.
If you want to get a Portfolio for yourself, head on over to the MUJJO website and pay $95 for it.