Introduction (Does It Do What It Should)
We have reviewed MUJJO products before, hence the "Part 3" in the title. This time, I'm going to do just do two products at once, because they are rather similar. The first is a Tech Kit which can hold some stuff, and then there is the 14-inch Laptop Sleeve which can hold stuff and a laptop.
Our Review of the MUJJO Tech Kit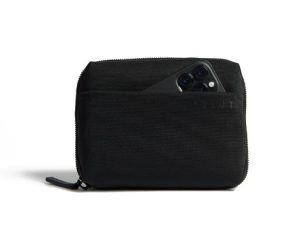 So, here is this Tech Kit, and I'm going to start by saying that it is made of vegan leather, recycled nylon, waterproof lining, and a metal zipper. If you unzip this zipper, after opening, you can see a lot here.
On one side, there is a big pocket with a zipper pocket in it. Then there are three straps (for lack of a better word) for stuff. On the other side, there are two kinds of pockets that are kind of…loose. I don't know how to describe that better, so maybe you should cut to the video. You will also see this cool magnetic pocket on the front, too. Oh, and I just found out that the crease for the pen.
This is one of those products that I could have used at CES 2023, because I put some charging cords, and so much other tech accessories in it. As it was, my backpack had a lot of pockets in it, and I kept them there. However, the Tech Kit is handy for keeping all those charge cords and other tech accessories all in one place.
Our Review of the MUJJO Envoy 14-Inch Laptop Sleeve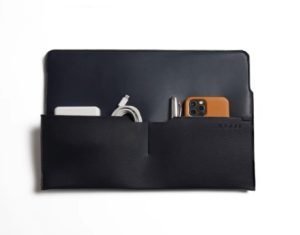 All right, this MUJJO product is made to hold accessories, but first, it should hold a 14-inch laptop. According to the website, it will hold a 14-inch MacBook Pro.
It is made of waterproof vegan leather, and I am assuming it's the same stuff as the Tech Kit. To hold your laptop, there is a magnetic flap there to hold it in safely. Then there is a small pocket on one side, and two smaller pockets on the other side.
So yes, it can hold a laptop and some other stuff, like it can be good for a charging cord and mouse. Like the Tech Kit, its a good place to keep all your stuff in one place.
Facts About The Company
I feel like whenever you say "MUJJO", you should think "leather". I mean, I think it is vegan leather, but they do make product with this kind of mindset. There is an emphasis on "purity and simplicity", and that about covers it. The company says that there is an attention to detail, and that is very cool.
What Does This Company Make?
They make a lot of accessories for phones like the iPhone, as well as the AirPods. It feels like these are kind of gourmet, honestly. I mean, they are not very super expensive gourmet, but I'm glad that it isn't. I guess it has to do with vegan leather, which is essentially polyurethane, a polymer that can be made to order by the creator.
Just the Specs, Man
If you're the type that needs this info, this section is for you!
MUJJO Tech Kit
Width: 6.5″
17cm Height: 5.5″ / 13.5cm
Depth: 2.5″ / 6cm
Capacity: 1.5 L
Weight: 0.2kg / 0.4 lbs
MATERIALS: Recycled polyester fabric, recycled polyester lining, vegan leather trim
MUJJO Envoy 14-inch Laptop Sleeve
Width: 36cm / 14"
Height: 27cm / 11"
Depth: 1cm / 0.4"
Weight: 0.47KG / 0.10 lb
Fits 14-inch MacBook Pro
MATERIALS: Recycled polyester fabric, recycled polyester lining, vegan leather trim
If there is something on this that I didn't cover, please let me know.
Okay, Get To The Unboxing Already!
Okay, I Like It, Just Give Me The Link So I Can Buy It Already!
This is not the same product as the Envoy, but I couldn't find it on the website.
Maybe I Want It, But Is There Anything Else Like It? Maybe For A Lower Price? Please?
Honestly, I haven't reviewed a lot of Sleeves on this site recently. I did a search and found very old posts. I'm sure I've reviewed something like this, like a Targus backpack, but yes, you might be able to find a sleeve for your laptop for a lower price, sans vegan leather.