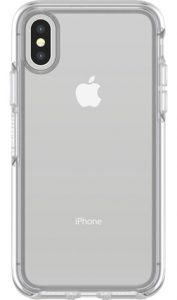 Otterbox is a well known company that protects many kinds of phones. People really want to protect those expensive iPhone Xs. Today, we get the chance to review the Symmetry Series.
The particular case we received to review is the Clear. You can also get one in Stardust- if you want to add a little sparkle to your phone.
The case touts the Otterbox drop protection. It claims to be scratch proof as well, but some customers have remarked that their case has received scratches. Otterbox customer service has been quick to offer replacement cases for customers, though, and a scratch on a case is always better than scratches on a phone.
Some customers have also complained about the buttons covering the volume buttons being hard to push. I have seen other people who have said the buttons were easy to push, and Otterbox suggested that it should loosen up over time. Again, Otterbox seems to care about customer satisfaction, so if it ends up being too much of a problem, you only need to let them know.
The Otterbox site offers this case for $39.95. The lip of the case will protect the screen from being scratched up if you put the phone face down, but for extra protection, you can get this screen protector as well.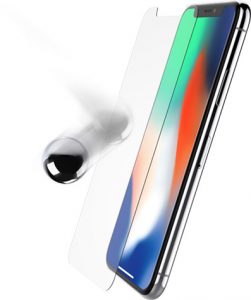 The Alpha glass screen protector can offer that extra screen protection for another $39.95 on the Otterbox site. Hey, you might as well protect that screen with something clear to go with your clear case. Okay, that's the best I have.