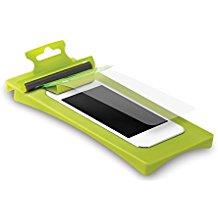 Everyone wants some extra protection for their screen, and this product promises to protect your screen-guaranteed. This is the Pure Gear Extreme Impact Screen Protector, and we happen to have been sent the one for the Samsung Galaxy S8 phone.
There is a version that is tempered glass, but checking out other videos on YouTube, tempered glass does not seem to be the way to go on Samsung Galaxy S8 screen protectors. The tempered glass ones are more expensive anyway.
The biggest feature of this screen protector is the Perfect Alignment Tray. The video below shows how easy it is to put on your phone. From Amazon.com reviews, there seems to be mixed reviews, and some have complained of bubbles.  We suggest that you make sure the screen is totally clean and dry before trying to apply it.
The list price for this product is $29.99 on the PureGear site. Checking out Amazon, I saw lower listed prices. It's good to shop around. There is a Lifetime warranty offered by PureGear, and it seems the company cares about the customer's satisfaction.