I cannot believe that it has been two years since we have reviewed a Scosche product! Well, I have a whole bunch of them to review and I really want to get started.
Our Review of the Scosche BaseLynx Charging Pad and Vert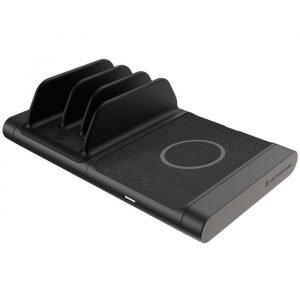 This first product is essentially a charging station, and all you have to do is connect the cord to it and plug it in. You can see that it is in two sections here, but actually, it can split up. By the way, there are some end sections that come off, but you really have to yank them.
The section with the big circle is for Qi enabled phones so you can just lay down your phone and let it charge there. Then you can see that there is that nice rack (don't read any innuendo into that) and put your smartphones and tablets on it. Now you can't charge anything wirelessly on that rack, but there are two USB-A ports and one USB-C port.
If this is something that you can't wait to get on your table, it is available on the Scosche website for $89.99.
Our Review of the Scosche BaseLynx Watch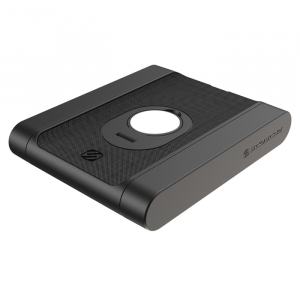 So, here's the really cool thing about the BaseLynx Charging Pad and Vert: you can attach things to it. One of them is the BaseLynx Watch, which comes with its own cord in case you want to use the BaseLynx Watch on its own.
So there is a great thing that pops up so you can put your Apple Watch on there and charge it. You can see how there are there tabs on it, and these will come off.
You can purchase the Baselynx Watch on the Scosche website for about $69.99.
Our Review of the Scosche BaseLynx Dual-Port EndCap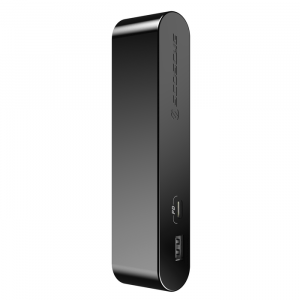 So, there is another attachment that you can get to the BaseLynx with the Dual-Port EndCap. In case you are wondering what these are for, it is for when you need two other charging ports like a USB-A and USB-C.
Now if it could only be a mobile battery, but I don't believe that is in the cards. I do like how this BaseLynx really can connect up with each other. I mean, it is so completely modular, and I have always had a soft spot in my heart for gadgets like this.
Oh yes, it gives power delivery for 3 times faster than standard USB chargers. All you need to do is just plug it in and there it is. If you want it, head on over to the Scosche website for about $39.99.
Our Review of the Scosche MagicGrip Double-Pivot Mount
All right, I will now switch gears from that pesky BaseLynx and turn to the MagicGrip Double-Pivot Mount. Yes, this is one of those things that is made for the car, and it is set up for wireless charging.
All you need to do is plug the special wire into the stand itself, and then plug the thing in the cigarette lighter. The phone then locks in place, as the stand sticks in place as well thanks to some stickum and this plunger thing.
I am not certain why there are two hinges on this thing, but it is there. Oh what is cool is that there is a great ambient light on the charger too. Now, you can get it on the Scosche site for about $69.95.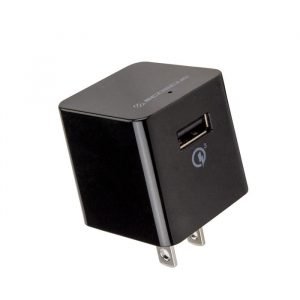 I'll go ahead and finish up this review with some reviews of other accessories. For example, there is the ReVolt QC, a Quick Charge 18 Watt Wall Charger. It is made to charge up to 4 times faster than regular, with 18 Watts of power to charge just about anything. You can get it on the Scosche site for $19.99.
Now, there are some charging cords that I can talk about with the Strikeline Premium, with the Braided USB-C to Lightning Charge and Sync Cable, the Braided Charge and Sync Cable for Lightning Devices, and the Braided Dual USB-C Charge and Sync Cable. They are available for varying prices and sizes, and they can be found at the Scosche site.