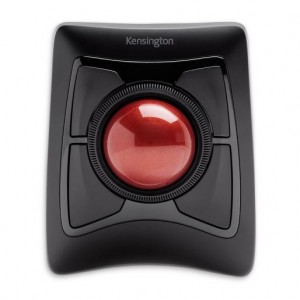 Well, it is time again for us to review a fine Kensington product, and today it is the Expert Mouse Wireless Trackball. I suppose that this is a step up from the Orbit Wireless Mobile Trackball, which we reviewed here.
What makes this one different from the Orbit and other wireless mouse is that you don't need a wireless dongle. If your computer can do Bluetooth, then you can use the Bluetooth 4.0 LE to pair it.
The Expert Mouse Wireless Trackball also comes with some customizable software for some precise cursor control. There is also the possibility of using the Scroll Ring, some award-winning technology to scan up and down web pages or long documents with ease.
All of that, and it has that trackball fun, and makes me want to play Marble Mountain again. Other features include a detachable wrist rest for ergonomic comfort, and there is an ambidextrous design for right and left-handers. That, and it has four programmable buttons.
All in all, it is a pretty sweet deal, and it can be purchased on the Kensington site for about $99.99.