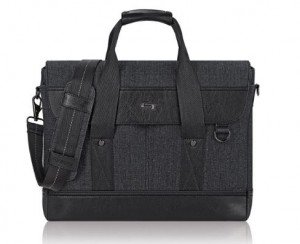 Well, I have to say that I haven't heard of Solo before, but I have reviewed a lot of products from companies that have turned up on my doorstep. So, this is the Sullivan Briefcase Messenger, which is good for 15.6 inch laptops.
I suppose that is good enough for a MacBook of that size, and it is fully padded. For those that are Apple fans and have an iPad an iPhone, there are pockets for them. While there is a pocket inside for the tablet (about a good size for an iPad), and your iPhone can fit in the two front pockets. `
I've found that many bags are full of pockets, and I will say that this particular model isn't quite full of pockets. However, how many pockets do you need? Well, in addition to the inner one, the inner tablet one, the two on the front, there is another in back.
Other features include a self closing magnetic flap, padded carry handles, and an adjustable strap. I'm going to say that this is something really great to have, and I will recommend it if you have the need. It can be purchased on the Solo website for $59.99.