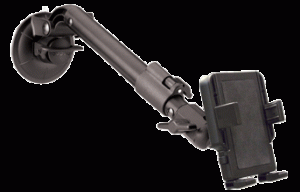 I have tried out Panavise products before, and I find that they are quite good. I was very pleased to try out the Porta-Grip In-vehicle Phone Holder, and it is a good way to keep your phone near where you need it while you drive. I was lucky to try out two of their models.
The first is the PortaGrip with 709B Suction Cup Mount, and it has a telescoping arm that extends to about 18 inches. This is good for vehicles with "deep dashes". The suction cup will cement to glass and remain surprisingly secure. As you might be able to tell, you can adjust the place where you keep the smartphone very easily. So if you want your GPS mapping program to be in portrait instead of landscape, you can have that. By the way, you can also adjust the angle at the suction cup for a better view.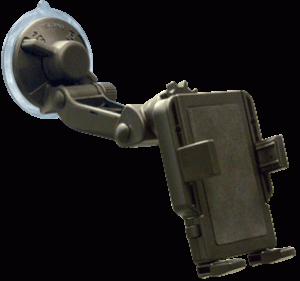 The second is the PortaGrip with 811 Suction Cup Mount, and it is very similar to the 709B that I just discussed, but it has a shorter reach. This is probably made for cars that have the glass closer to the driver, and I couldn't think of any other way to describe that without using the term "shallow dash". You can turn and adjust the smartphone in its cradle, and I forgot to mention that its design allows for the side buttons to be free, unlike a lot of other automobile smartphone mounts.
If you want to get in on this deal, feel free to head over to the Panavise site and see what they have to offer. You can find the 709B Suction Cup Mount here for $59.99 and the 811 here for $29.99.