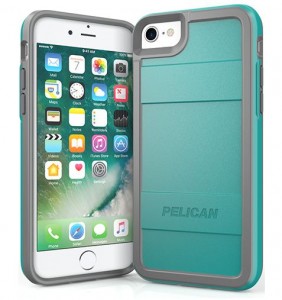 Well, we had a chance to review yet another Pelican product, which is in addition to the Voyager case that we reviewed the other day. I've already talked about how Pelican makes some very interesting products that are very durable, and trusted since 1976.
So, it has all the drop resistance, shock protection, as well as the non-slip grip. What is interesting is how this particular case feels a bit smoother than the Voyager, but it doesn't come with the screen protector. Oh, by the way, it has the same guarantee for life that is associated with Pelican products.
Apparently , there is an absorbing TPR rubber lining that can protect the device. Just squeezing it without the iPhone 7 feels like I have a stress ball in my hand.
It is a pretty great case, and it comes in Black/Gray, Pink/Gray, or Aqua/Gray. I found it on Amazon for about $39.99, and it is also available at Best Buy and the AT&T store.