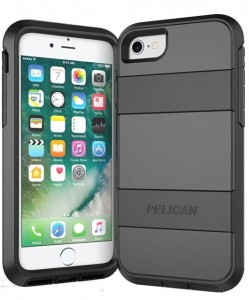 Considering that it is essentially iPhone 7 season, that means that I am going to be reviewing a lot of the accessories associated with it. There is one company that I am familiar with when it comes to hard cases, and that is Pelican, and here is the last product that I reviewed for the iPhone 6.
To say that Pelican cases are a bit of a hard case is underselling it, as it is up there with Otterbox. This Voyager for the iPhone 7 has a slime design and a soft touch over-mold. That means that it won't slide out of your hand so easily, and I'm not certain if that is an issue with a naked iPhone 7.
It also has a rigid polycarbonate shell, and it has a decent screen protector. If you are thinking that it is good for protection, you would be right, and I'm told that it is good for military specifications. In fact, it has a lifetime guarantee. In addition to this, it also has an easy to use holster as well as a swiveling belt clip.
All and all, it is a great product, and you can find it on Amazon for a price of $49.99, as well as places like Best Buy and AT&T. You can find out more information about it and its colors here.