It's been a while since we've reviewed products from Tech21, but they are a good company if you are looking for some cases and protection for your phones. They have sent us some more cases to consider and tell you about. So get ready for our assessment of four different Tech21 cases.
Tech21 EVO LUXE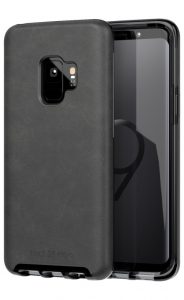 This classy looking case looks like leather, but it's really "Vegan Leather," or what seems to be some PVC material. It kind of has a leather smell, but I don't know if that's chemicals I am smelling. The drop protection on this black case is made of 3 layers with ribs on surrounding the sides of the case on the inside. This design with FlexShock is said to protect your phone from 12 ft. drops. The lip wraps around the front so you can place the phone face down and have protection. The part that covers the buttons on the sides are not very prominent, and might be a little tougher to maneuver than other cases I have seen.
If this ultra-slim, 1.8mm thick case that works well for wireless charging appeals to you, you can find it for $49.95 on their website. We were sent the case for Samsung Galaxy S9, but it's also available for iPhone 8 and up.
Tech21 EVO WALLET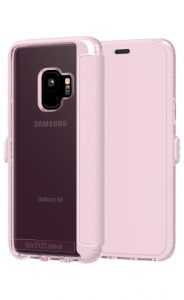 This case is good for those looking for something to totally envelop their phone. It contains the same FlexShock drop protection from 12 ft. This one, though, has a leather- like front (maybe this one is actually leather) that wraps around your phone. There is a clasp to close it on the side. It seems a little difficult to open and close the clasp. That may get easier with time. I can see it becoming problematic if you want to access your phone in a hurry, but there are cutouts and buttons so that you can answer calls with the cover still on. The tactile buttons on the left side, again, are not very prominent.
A cool feature is the ability to carry a couple of credit cards in a concealed compartment in the front of the phone. The case comes in pink or black, and they have different textures. I can't tell what the texture of the black case is, but it definitely has a different texture from what I see. We received the pink case. This one for the Galaxy S9 is $49.95. It is the same price for iPhones, and from reviews I have seen on those, there is a way to take the Folio cover off and just use the basic case. I don't see that on the case for the Samsung Galaxy S9, though.
Tech21 PureClear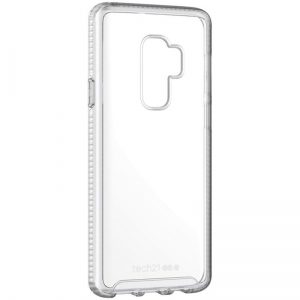 If you want a clear case for your phone, this could be the one for you. It has a 10 ft. drop protection of two layers- the ribs like the cases above, and BulletShield material, which is used in bulletproof glass. It's thin(1.2mm), and can be charged wirelessly. It also says that the case resists UV damage for longer and therefore won't yellow. The button covers on this case seem much better to me than the others.
This case, also available for other phones has a cost of $39.95 on the Tech 21 website.
Tech21 EVO Check Evoke Edition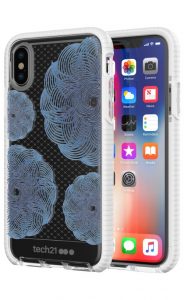 Finally, the last case we are about to review is a beautiful way to protect your phone. In this case, we received the iPhone X cover in clear and blue. It also comes in pink, with red flowers.
This case also has the FlexShock impact protection, and has a promised protection of 10 ft. drops. Again, a thin, light-weight design for easy access to wireless charging. The back of the case has a texture with checks, and the floral design that really stands out. This design costs $49.95, and this Evoke edition only seems to come for the iPhone 7 and up, but the Evo Check is available for other phones as well.
That concludes our review of these phone cases. Our usual disclaimer- these cases were sent to us for free to review in exchange for our fair and unbiased analysis. No other compensation has been given.