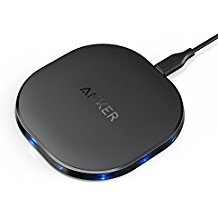 There are many wireless charging devices out there, and we have another chance to review one of them. This one is the PowerPort Qi 10W from Anker.
The Anker PowerPort allows for 10W fast charging. This one charges Samsung Galaxy Note 5, Note 7, S7/S7edge, and S6 edge+, but I've seen reviews for iPhone X as well. If it's a device with wireless charging capabilities, Anker has your back. You'll know if your device isn't compatible if you lay it on the charger and get a rapid blink on the LED lights around the edge.
When I attempted to charge my phone, I noticed that it didn't charge as fast as I thought it would. I then read that you need a Quick Charge adapter (not included) for Fast Charge 10w mode. I mean, it works if you plug it into a USB port, but don't expect spectacular speed. Also to note that if you use your device while it's charging, it might overheat.
The nice features of the charger is that it is small and relatively slip-proof. The dim blue LED lights around the edge will tell you the status of your charge. There is a thermoplastic elastomer coat on top and the foot pads on bottom to prevent slipping of the phone and the surface you place it on.
All-in-all, it's a device that will simplify the charging of your device, and it has the benefit of being compact.
The listing price on the Anker site is $25.99. You can get a Quick Charge adapter with a single USB port for about $16 on Amazon.com.