A company in Korea called Man&Wood sent us some lovely phone cases to review, so we'll cover the four different ones we received today. We'll also throw in a review of the iKins case we received in the same package- also Korean made.
The first one is called MilkyWay, and we received one for the Galaxy S8.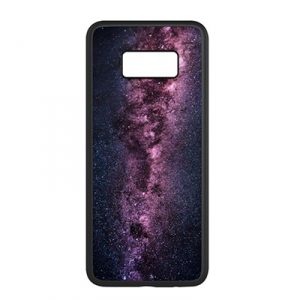 The Man & Wood cases are all made out of wood, or maybe it's wood products. This one has a smooth, epoxy surface with the Milky Way galaxy on it. It seems pretty flexible and a bit rubbery to be made out of wood. The jury is out on this one. There are some ridges on the side for a good grip. The case covers the buttons on the Samsung Galaxy S8, but even though they don't protrude as much as buttons like we've seen on other cases, you can still easily manipulate them.
The next case we are reviewing is one for the iPhone X. This case definitely includes real wood- it actually has the feel and smell of wood. It also has a sketch of my favorite bridge on it.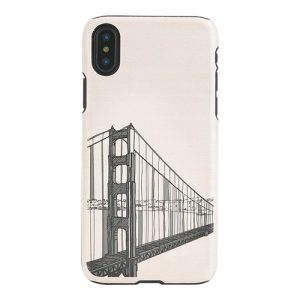 This one, called the Strato, also has the feel and smell of wood. I should add that these cases have a poly-carbonate lining. The tops and bottoms of these iPhone cases are open, they do not encase the phone all around. It makes the phone easy to access in the case, but some users might want something that surrounds their phone. There is no drop-proof claim to any of these cases, but they are nice if you want to protect the back of your phone while being stylish at the same time.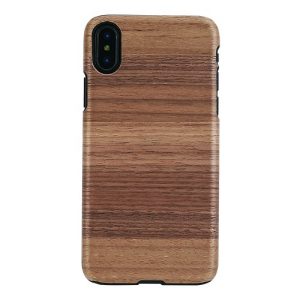 Our final case, which is branded by iKins, is named Pearl Skin Mondria, and this one was for the iPhone 8/7. The iKins are carried by the Man&Wood company, and their cases are made out of various materials like metal, fabric, pearl and leather. I would say this one is a pearl material. It has a sleek geometric design that is also luminescent.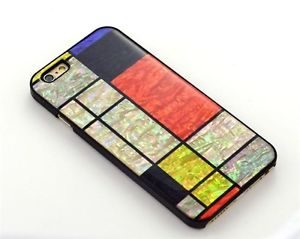 Man&Wood has a website with these cases and many more, but at this time, we can't find prices for the cases, so we can't give those details out yet. We'll update when we find out more.
We do not have a sponsored relationship with this company, but thanks to Man&Wood for sending us these cases for free to review. This review is our honest and unbiased assessment.