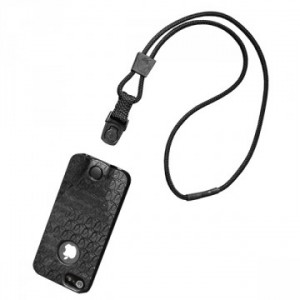 According to the box for the i5 Speak Easy Neck it (that's "neck it" not "naked"), an iPhone is lost every five second. This means that by the time you read this sentence, and iPhone is now lost. Hopefully, it wasn't yours.
The i5 Speak Easy comes with a lanyard attachment that is easily detachable at the touch of a button. In case you are worried about the strength of the lanyard, you needn't be. I first met EK USA at a conference, and the guy at the booth could not stop selling the strength of this lanyard to me. I just found out that guy is no longer with the company, which is a real shame.
Still the quality materials from EK USA live on. In addition to the lanyard, which is good for securing your phone to your neck or wrist, the case is made of a quality material. It has quite a texture so it really won't slip out of your fingers.
You should be able to purchase the i5 Speak Easy Neck it for about $39.99 on the EK USA site, in many different colors.