Okay, it is time to review some more Speck, and we have a lot going on here. Unlike last time, when we reviewed Samsung-related accessories, we are going to cover what Speck has for Apple with
Speck Presidio ULTRA for the iPhone X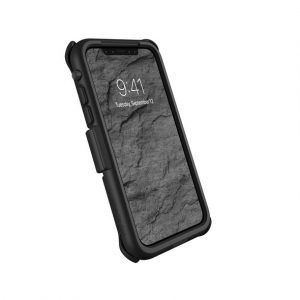 I have to be honest when I say that I am surprised that the Presidio Ultra is not one of those waterproof cases. As far as I know, it isn't, because it would have bragged about it on its packaging.
As it stands, the Presidio ULTRA for the iPhone X will give you the protection for Apple's latest and greatest smartphone, at least from dust and dirt. If that sounds good to you, let's throw in a little 15 foot drop protection. Oh, it has a no-slip grip, and 360 degrees of port protection.
Not only that, but this has four layers of protection thanks to our old elemental friend of Impactium. It also comes with this rugged holster as well.
In short, it looks like the Presidio Ultra for the iPhone X has it all, and it is available on the Speck site for $49.95.
Speck Presidio Wallet for the iPhone 6S/7/8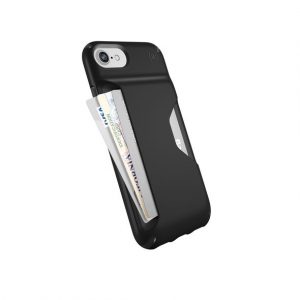 So, this is another interesting military-grade case with the Presidio Wallet. This one is made with two layers of protection, and it has that Impactium shock barrier. Did I mention that it is military-grade, drop-tested at 10 feet? Because it is.
You can see why it is called the Wallet, and it can hold up to 3 cards. I'm actually seeing this feature as practically standard these days, but that depends on how you shop. I still use a wallet, but I think the next generation will just use a driver's license and a computer program to pay.
If this is something that you desire, head on over to the Speck site and pay $44.95 for it.
Speck ShieldView Glass Pro for iPhone 6S/7/8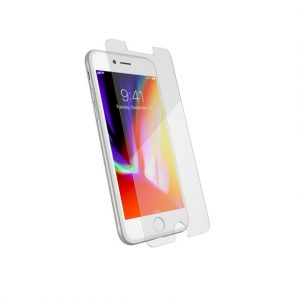 Okay, it looks like I'm going to briefly not talk about cases to talk about screen protectors, and they do go hand in hand. The ShieldView GlassPro is tempered glass with sapphire treatment, and it is shatter resistant with a sapphire perimeter.
I always like how easy they are making screen protectors these days, and this particular one is easy to put on. You can then have the protection against scratches and oil.
It is quite good, and you can get it for about $49.95 on the Speck site. And by the way, you should really just get a screen protector if you don't have one already.
Speck Presidio Metallic for the iPhone 6S Plus/7 Plus/8 Plus
Well, this is a case that is quite something, with the Presidio Metallic. Like other cases of its type, it has two layers of protection and that Impactium as well.
I would have to say that Metallic isn't really accurate, as it doesn't appear to be made of metal. I mean, it feels like some kind of hard plastic, something that is not soft to the touch.
It certainly is very decent, and it is available on the Speck site for about $24.97. At least for now, as that could be a holiday rate.
Speck Presidio CLEAR + PRINT for iPhone 6S Plus, 7 Plus, and 8 Plus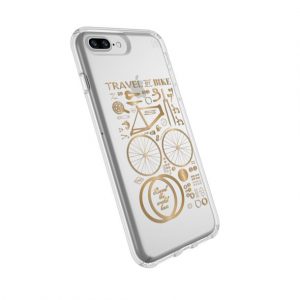 Well, I have already talked about the CLEAR in my aforementioned Samsung review, and gone into detail about how it is military grade and drop tested for 8 feet. It also has that Impactium that I keep bringing up, and this will be the last time that I bring it up.
What makes the CLEAR + PRINT different is that it has a design on it. I suddenly realize that as I have been writing about all of these and have not mentioned the color of any of these. The CLEAR + PRINT is all about the cool design, and for some reason, there are bikes and flowers on these cases.
I highly recommend going to the Speck site and checking the patterns out for yourself. You can get it for about $24.97, and that is a possible discount price for some of the patterns.