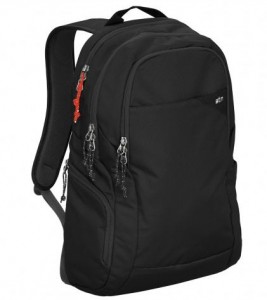 There is nothing like a good STM products, and they make a lot of them. It has been a few weeks since I received the Atlas Wallet case before the iPhone 6/6S and iPhone 6/6S Plus. Now we will be doing the Haven Laptop Backpack.
So I have reviewed a lot of laptop backpacks on this site. In this case, the main pocket can probably both hold a tablet and a 15 inch laptop. The next pocket has a bunch of pockets including a zippered pocket, there is a strange hole in this, which looks to be made for the earbuds or cord or something.
Yeah, it holds an elastic power pocket for the laptop's charging brick, a place for sunglasses, and much more. For exmaple, there is an internal document sleeve, so you can put in stuff like file folders and not get them wet. Why not wet? Well, as it turns out, the backpack has some water resistant fabric.
All in all, it is quite a good way to transport your laptop, and it comes in black, frost gray, Moroccan blue, and steel. It costs about $99.95 on the STM website.