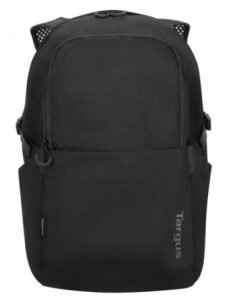 I do like to review backpacks, which is something that I consider to be just as important as the usual consumer electronics that I review. After all, they hold our consumer electronics, and this can hold a 15.6-inch laptop.
It is made of some very recycled materials, about 20 plastic bottles of recycled stuff. But enough about its outside, let us talk about what is inside.
By inside, I mean what you can put inside of it with the pockets. There is a foam-padded laptop cradle, a stash in the front, and then a kind of workstation for smaller accessories.
I am very impressed with this, and it can also hold some big waterbottles on the side. The straps also feel very strong, so it feels like there is a lot to be held on this.
I am going to recommend this particular backpack. You can find it on Targus site for about $79.00.