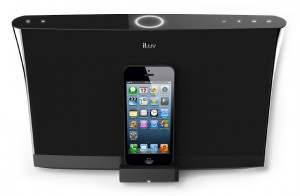 I think that the day that Apple changed their 30-pin connector killed a lot of business of iPod/iPhone docks. There was a time when the iPod dock was big, but that Lightning connector sort of changed everything. Fortunately, iLuv, who has made some great products like the Mobicup, has the Aud 5.
I was fortunate enough to try it out, and I have to say it put out a lot of sound for something in its proportionate size. I suppose it is because of its "high fidelity speakers and passive radiator". Yeah, I don't know what it means either, but take my word for it, it is good sound.
Not only is the sound good, but I also like the shape. It kind of feels like the giant pipe organ at a church, or something. The iPhone 5 goes right in front, like it is the minister. I suppose I'm taking this church metaphor too far, but your iPhone 5 minister gets charged when he is at the pulpit. Oh, that was so bad!
I know that I was sort of griping over the Lightning connector a while ago, but if you don't have an iPhone 5, you can still use this. Just get yourself some auxiliary input and you are blasting. Again, take my word for it, it works.
If you are wanting this, feel free to head on over to the iLuv site and lay down $129.99 for it.