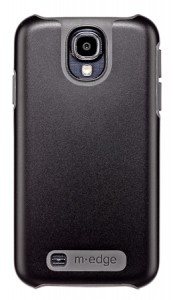 I am definitely no stranger to anything M-EDGE. I have reviewed their cases and other accessories in the past, like the Incline and the Supershell. To me, the existence of M-EDGE proves to me that we live in a world where smartphone cases come and go like fashion. I had a chance to try out two of their cases, the Echo and the Enforcer.
I'll go ahead and start with the Echo, as I listed it first. I am not certain why it is called the Echo, but it might have something to do with the two layers of protection, because an echo is essentially a repetition of a sound, get it? Okay, that was a little weak, but the soft silicone layer is ribbed with circles to keep the phone in, and a hard exterior to keep the phone safe. There really isn't that much I can say about it as it compares to other cases, so let's talk about The Enforcer.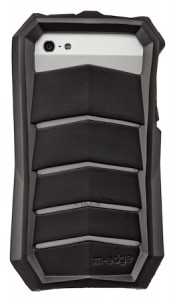 When I say The Enforcer, I'm not talking about the Clint Eastwood Dirty Harry movie of the same name. I'm not certain if either Mr. Eastwood or Mr. Callahan would have this case on their iPhone. To me, it looks like a section of a Cylon's spine, and that is about the best way to describe that. If you want a better description, M-EDGE describes it as "styled like a stealth bomber". I am assuming that is so rigid (rigid as in tough and ridge-ed as in full of ridges), so it stays in your hand in spite of a sweaty grip.
You can get the Echo case on the M-EDGE site here for all kinds of phones like the iPhone 5, HTC First, HTC One, and the Galaxy S in all kinds of colors and patterns for $34.99 each. As for the Enforcer, it is only available here for the iPhone 5 is black, for the same price as the Echo.