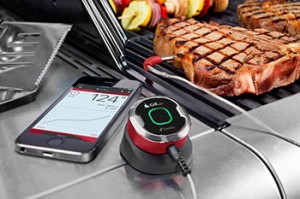 I've reviewed iDevice products before, and I am referring to a company known as iDevices Inc, not the generic term used for devices compatible with Apple products. The last product I reviewed was the iShower, and it was quite a cool Bluetooth speaker. Today, I'm going to talk about the iGrill mini, a Bluetooth thermometer.
It is designed for grilling, which will let you know when your food is ready. Now, if you work at a restaurant, this is very, very important. If you get yourself a food-handler's permit, then it is required that you cook your food at certain temperatures. I know that because I took the food handler's permit test ten years ago, and I don't remember the temperatures that I was tested with.
The iGrill mini allows you to connect a probe to your meat, and then link that probe via Bluetooth via smartphone. You can just magnetically mount the iGrill mini near the grill, and then monitor it on your smartphone. This way, you will know when to flip it. There is an LED to show progresses through four different stages. By the way, it has a battery life of over 150 hours.
If you are wanting to get in on this, head on over to the iDevices site for about $39.99.