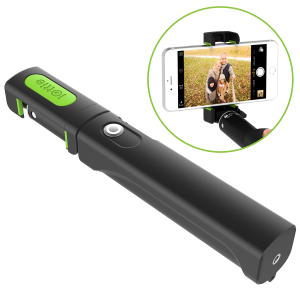 Some of you might remember that I just reviewed a Selfie Stick from Vivitar, and now it looks like I had a chance to review one from iOttie. Let's just say that after reviewing my second selfie stick, I was thinking that they are all alike. However, this MiGo Selfie Stick from iOttie is pretty good.
In fact, I hope to review more iOttie products soon, but that is another story that I will hopefully tell at another time. I'll start by giving the specs, like how it can extend from 8.7 inches to 32 inches. It has the spring-loaded cradle to hold devices that are 1.9 inches to 3.5 inches. Instead of the remote like the Vivitar one has, this one has a button that syncs up really easily with the device that I was using.
The only thing that I can think of that would make this different is how it has a threaded hole that the bottom made to accommodate tripods. The MiGo can also connect to a GoPro in a unique manner, but I am not really certain how that works.
This MiGo Selfie Stick is available on the iOttie site for about $39.95.