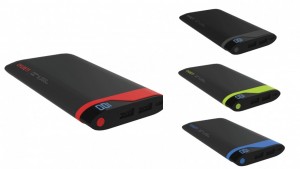 It has been a while since we've reviewed Cygnett products, but the opportunity to do so has come to us again. Like the last time, we have a portable powerbank- the ChargeUp Digital 6000. We were also given a Lightning™ to USB cable, and a Micro-USB to USB cable.
The first item I'll cover is the ChargeUp Digital powerbank. This particular one at 6,000 mAh is one of their mid-range as far as power goes. They also have similar products that are at 10,000 mAh, and lower ones at 4,000. This change is mostly reflected in the price. The super thin devices are black with your choice of blue, green or red accents. They have a nice digital display in the corner to let you know how much battery life is remaining.  *Note: On the box, it says it is precharged and ready to use. When I pulled it out, there was only 78% charge. Other reviews I have read seemed to have various percentages. One review said there was no charge. I'm guessing your mileage may vary.
It comes with a Micro-USB charge cable, and also works with Lightning™ to USB cable(not included). There are two USB ports on the powerbank, so you can charge two devices at once. The lithium polymer battery gives it the ability to hold more charge and to charge devices at a high speed. The 6,000 mAh ChargeUp Digital can be purchased on Cygnett's site for $69.95.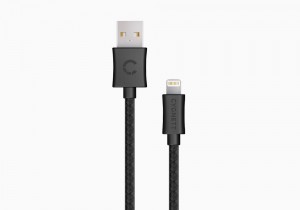 The Lightning™ to USB cable we received is a reinforced, braided cable made for iPods, iPhones and iPads. There is 13 ft/4 m of cable, which is a nice length to charge devices without having to be right on top of a USB port. You can buy as short a cable as 1 m, and that will reduce the price. This cable costs $49.95 if you buy it on the Cygnett site. 
And finally, we have a Micro USB to USB Cable. This one Cygnett sent to us to review is also 13 ft/ 4 m. As with the Lightning™ cable, it is also braided to make it durable. It provides rapid 2.1A charging. This cable is available for $29.95. You can also get the white PVC style cord for the same price.