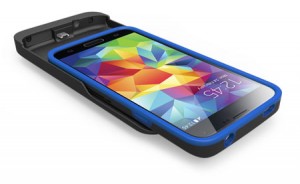 I have reviewed several cases that doubled as mobile batteries, and yes, I have reviewed the Energi Sliding case for the iPhone. Now I've reviewed the Sliding Power Case for the Galaxy S 5.
I like the sliding case because you get the case, but you don't have to lug around the weight that a battery/case gives you. Instead, you get the protection of a case, and just attach that battery on when you need it in a pinch. Of course, you will have to charge that baby up.
I suppose that the only thing left to talk about is the 2800 mAh, as well as the 1.3 A output with intelligent power routing. If you got a Galaxy S 5, you should get a hold of it. You can get it on the TYLT site in Blue or Gray for about $79.99.