Well, by this time, you probably know how this goes if you have read our previous reviews of UAG products. Honestly, we do a lot of them. Since Samsung has got their new S20 available, it just makes sense that we would be reviewing some UAG products for them. Okay, we got a chance to review the UAG Pathfinder, Civilian and Plyo series for the Samsung Galaxy S20 Plus.
UAG Pathfinder for the Samsung Galaxy S20 Plus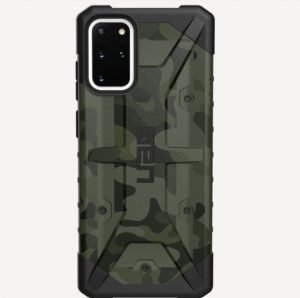 In looking at the Pathfinder, I am seeing words that a descriptors on their website, like "armor shell" and "feather light". I can definitely attest to the armor shell, as it seems to be both hard and yet soft at the same time.
I can also attest to the Pathfinder being feather light, as it feels like it should be heavier as it feels like it should be harder too. I am of course not complaining, because this is what you want to be your soft case, but still be tough as well.
The Pathfinder gets its name because it is made for adventurers, and as you can see, it comes in a camouflage color scheme. It is available for purchase on the UAG site for $49.95.
UAG Civilian for the Samsung Galaxy S20 Plus
So, if I am going to do some comparison, I will say that the Civilian is much, much smoother. You can check out the Pathfinder and see how like a buckle it is, but the Civilian is rather beautifully minimalist.
Like everything, it is beautiful on the inside. There is this weird pattern inside of it known as the Hypercush which can keep Samsung's newest flagship safe.
The end result is something that can keep the Samsung Galaxy S20 Plus very smooth. It can be purchased on the UAG site for about $49.95.
UAG Plyo for the Samsung Galaxy S20 Plus
Okay, so the Civilian is smooth, but I would have to say that the Plyo is the ultimate in smoothness. It is completely transparent or Ice for its color, but it feels a little rough in its texture, kind of like those lenticular things.
So the Plyo is so named after…Plyometrics, some kind of jump training. Yeah, I just found that out by Googling Plyo. I'm not certain what the transparency or other things have to do with it.
Well, it is a pretty good case, and you can purchase it on the UAG site for a price of $39.95.