It has been less than a month since we have reviewed UAG products, and we always have a terrific time reviewing them once again. This time, it is U by UAG series, which has a beautiful aesthetic.
[U] Lucent Series for the iPad 10.2 (8th Gen) Case Review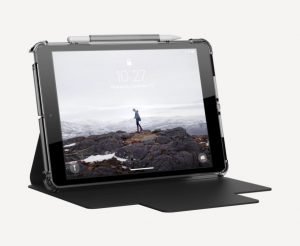 The Lucent iPad case is one of those cases for Apple's tablet, ready to be used for a stand. Of course, it is also a protective case, with a magnetic flap to seal it as tight as it needs to be.
The surface feels quite rubbery with circles that provide texture. The inside of the Lucent case has similar texture for keeping the tablet in place, and the entire thing feels very light.
The case is good for leaning upright at two good angles. There is also a place to hold the stylus as well. You can purchase the Lucent for the iPad 10.2-inch version for $59.95 on the UAG site.
[U] Dot Silicone Strap for Apple Watch
Oh, here's a great strap from our guys at UAG with the Dot Silicone Strap for the Apple Watch. I will have to admit that it feels very rubbery to me, but it is tough and has some stainless steel hardware.
It feels soft on the wrist, and it is anti-bacterial, which is, of course, important right now. Remember when I said that the Lucent for the iPad had circles for its texture? The Dot also has some micro-dot design, and it has debossed logo detail.
If this is something for you, it comes in a variety of colors for a price of $39.95 on UAG site.
[U] Lucent Series iPhone 12 Case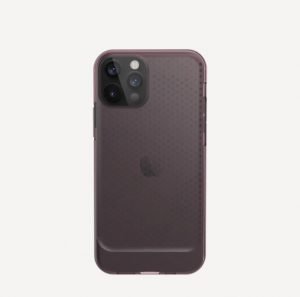 Okay, once again, I have to say that the case is very rubbery, and it is very flexible. That is, it will flop around without an iPhone inside it.
Needless to say, there is also a microdot pattern within it, made to keep Apple's treasured phone inside of it. This featherlight case is most certainly needed, and all in one piece design.
It is pretty very inexpensive at $29.95 on the UAG site in various colors.
Silicone Case for Apple Airpods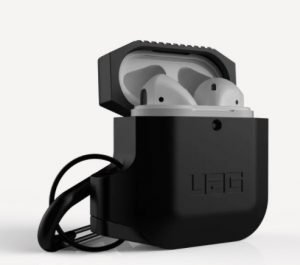 So what kind of feel does this have? Duh, it is rubbery. It is made that way because it meets a certain military drop standard.
Oh, it also protects against weather, and it has a detachable carabiner with a quick release button. Oh, I forgot to mention that is wireless charging compatible, and the light will show through the case to know it is charging.
If you want it, it is available in all kinds of colors for $29.95, on the UAG site.
Silicone Case for Apple Airpods Pro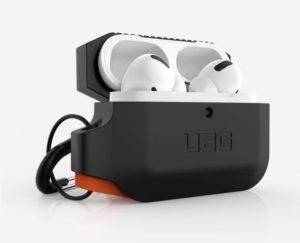 Well, I am not certain how to describe this particular product, other than it is the product that I just described, but for the Apple Airpods Pro.
It definitely meets the military drop protection test, and it has the weatherproof protection test going for it too. Oh, its got the wireless charging action going on as well.
It is also the same price of $29.95, available also on the UAG site.