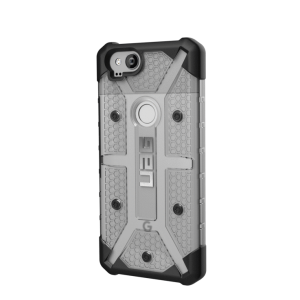 By now, I have become pretty familiar with Urban Armor Gear (UAG) and their line of cases. I was very pleased to try out the Plasma case for Google's line of smartphones with the Pixel 2 and XL 2.
I will have to say that the Plasma is a design that I have seen and reported on before, the last time was with the HUAWEI P10 and Mate 9. The Plasma has this hard plastic thing going on as well as this mesh thing with a cool rubberized frame.
Part of what makes the Plasma work is that it is feather light, which means that you can barely feel the weight. The issue is that you get the protection, which is what you really want. It certainly has the military drop test standards pass.
Now, the ones that I got to try were ice, which means that they are clear. They are also available in Ash, which is black in its color. You can get the Plasma for the Google Pixel 2 for $39.95 here, and the Google Pixel XL 2 here for the same price.