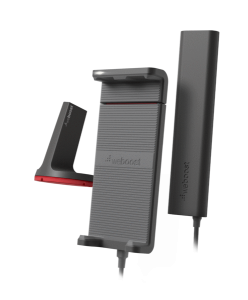 I always like to review Wilson products, as they make excellent cellular phone signal boosters designed for both the consumer and the business. This time, I had a chance to review the Drive Sleek, and it is a terrific vehicle signal booster kit.
The Drive Sleek is made for the vehicle. What you do is stick the outside antenna onto the roof with its super strong rare earth magnet, and I still have no idea what that is, but it should make it stick to your roof. Fortunately, there is a non-magnetic roof option with an adhesive disk.
The antenna connects with the 5V/2.1 Amp charging port, and that connects to the cradle. This particular cradle can hold phones that are 7.5 inches long or small as 5.1 inches. They say that the newest version of the iPhone and Galaxy Note should fit just fine.
Speaking of things that should fit just fine, the Drive sleek should be compatible with all US and Canadian cellular networks like AT&T, Verizon, Sprint, T-Mobile, US Cellular and more.
Can I recommend this? Absolutely. I mean, if it is trusted by first responders, how can you lose? I mean, you can get up to 23 decibels of gain. All of this is available for $199.99 on the Wilson site.