This review will cover two different kinds of glass cell phone protectors from the same company, which is Zagg Invisible Shield. This company is known to be the top seller in screen protection according to a study done from 2011 to 2017 by the NPD Group Retail Tracking Service.
The first one I'm reviewing is the Glass + Luxe 360. This product that we were sent to review for the iPhone X is different from most protectors that we've reviewed- in that it has protection for the front AND the back of the phone. When you hear 360, you might think that the protection would completely surround the phone, but it doesn't get the sides. Still, this product protects the delicate iPhone X on the screen and on the back of the phone- up to 3x an unprotected screen, and those who don't want to deal with a case on their phone might enjoy this lightweight bonus protection.
The glass borders come in black or black/silver for the iPhone X. It looks like this:
Other features:
It comes with an "EZ Apply Tray," microfiber cloth, cleaning wipe, and dust removal sticker. I highly suggest checking out the video I'm posting for more tips on applying these protectors. You want to make sure that they are accurately applied so you don't get the bubble effect or peeling. Make sure to register your product when you get it because there is a lifetime warranty on the screen protector for as long as you own your phone.
The glass + luxe 360 protector runs a pretty penny at $69.99 on their website, but they have free shipping…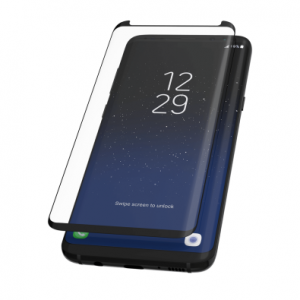 The same company sells the Glass Curve Elite for the S8, S8+ and Note 8. The curved glass protection that Zagg offers is probably the best out there. Many companies in this market are trying to figure out how to get the best coverage on these infinity screens, and Zagg probably got this right with their adhesive that covers the whole glass, so there is the precision touch sensitivity all over the phone. There is also no weird effects around the edges like other products.
The package comes with all the stuff that I listed above for the 360 (well, different protector, of course). Also, as with the other glass protector, it comes with a limited lifetime warranty.
The Glass Curve Elite runs about $50, and you can find it here.
This guy gives some good tips on how to avoid getting dust trapped under the screen protector, and how to apply perfectly…