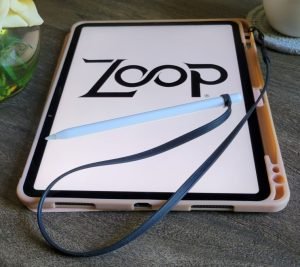 I am going to readily admit that the ZoopLoop Silicone Stylus Tether is nothing more than a secure strap for a a stylus, but this is all that it needs to be. Considering that many of us have an Apple Pencil or similar high-priced stylus for our tablets, it is probably good that we shouldn't lose it.
By "lose it", I mean feel the madness when that stylus gets misplaced. It really just makes sense to have one of these, and you might as well have something like this to keep that stylus in place.
Now I will have to admit that it probably doesn't take a genius to think of a product that isn't really all that complex. I discovered it at CES 2023, and I personally thought the story of it was just as good as the device itself. You can see the video if you don't believe me.
The ZoopLoop is made of some durable, high quality silicone, and it is 20 3/4 inches long and a quarter-inch wide. You are meant to loop the string to the tablet case for a better hold, and then put one end on your stylus.
If the ZoopLoop is something that you want, you can get it on Amazon for a price of $14.99.