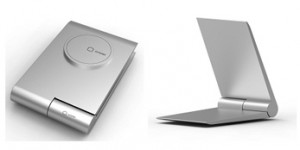 After reviewing the TYLT Capio Universal Car Mount, I am seeing a trend with the stands that I review. They seem to have some weird sticky stuff to put a phone on so it can hold it in place.
This is the case of the Zyroshell, which is a cradle that can open up to rotate 180 degrees. You can then stick your phone or tablet on the circle of stickiness, and it holds about a pound (.9 lbs, actually).
Now it does hold things pretty secure, but it also comes with some weird magnet thing on plastic. Seriously, I can't figure out the purpose for it, but it is there.
Yes, I did get one of these Zyroshells to try out, and I have no idea how much this is. I am going to give you the website here, and you can see about getting one of your own.