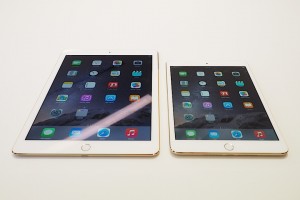 Like we mentioned yesterday with Google's big announcement, we knew that Apple was going to announce something. In fact, most news outlets had already received word about what it was: the iPad Air 2 and iPad mini 3.
Let me start by saying that I didn't hear much about the iPad Mini 3. I think it is just the same size with a few upgrades. Apple spent a lot more time talking about the iPad Air 2.
This new version is very thin at just 6.1 mm. In fact, you could stack two of them and they would not be as thick as the original iPad. On the inside, the iPad Air 2 has an A8X chip, and is 12 times as fast as the original iPad. It has 10 hours worth of battery life, and includes an 8 Megapixel iSight camera with a f/2.4 aperature, capable of 1080p video. Then there is another update: a TouchID fingerprint sensor, which was predicted as a new feature.
The iPad Air 2 should be available soon with $499 for the 16GB, $599 for the 64GB, and $699 for the 128GB. The iPad mini 3 is $529, $629, and $729 respectively.
Another big reveal was a 27-inch Retina screen for the iMac. The resolution is 5,120 x 2,880, which is 67 percent more pixels than 4K.