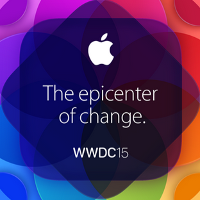 Apple is planning to have their annual Worldwide Developers Convention (WWDC), and they are planning it on June 8-12 in the Moscone Center in San Francisco.
According to Apple, the WWDC will be a time where Apple's developer community "will come together to learn about the future of iOS and OS X", and there will be "more sessions than ever before streamed to developers".
Of course, that is not much news unless you are a developer for Apple, but what might interest the casual reader is that something might be announced. WWDC has often been used by Apple to announce certain new products. Perhaps the newest iPhone or iPad could be announced.
It could be the iPad Pro/Plus. Tech Times reports that a popular analyst has stated that Apple is planning a release date for the iPad Pro/Plus later this year. A 12.9 inch display would match the display of the MacBook Air and MacBook Pro, which are available in 13-inch display versions. The presence of a 12-inch tablet would change the playing field for Apple's applications, as a larger screen would allow users more freedom.
In addition to the rumors of a larger screen, there have also been rumors that the iPad Pro/Plus would come with a stylus as well. This seems odd as Steve Jobs was not very pro-stylus, but the former CEO did not have any input on the Apple Watch, so it is up to Apple to come up with new designs for its products like its flagship tablet.
I believe that iOS 9 will be making an appearance, so then it will show up later. In the meantime, iOS 8.4 is planned for release soon.